Gland Packings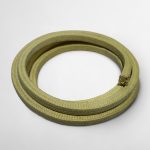 Aramid Fiber Kevlar Packing with PTFE (CVS® 4526)
Aramid Fiber Packing.
It is manufactured from DuPont's Kevlar yarn impregnated with PTFE dispersion andtreated with lubricant, braided into square cross section.
Performance
Temperature: -220°C to 260°C
Pressure : 110 kg/cm²
Velocity: 16 m/s
pH range : 2 to 14
Applications
For seawater pump, bilge pump, fuel oil pump, boiler water circulating pump, valves.