Filters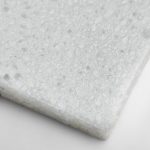 Water Filter Sponge (Vinyl Acetate)
Synthetic made sponge filter ideal for immersion in any cascade tank or sump for filtering of hydraulic systems, coolant fluids, etc.
Applications:
Suitable for use on engines, hydraulic systems, light aircraft, vessels, and vehicles.
Product Features:
•  Lightweight
•  Flexible and durable
•  Quick drying
Size Per Sheet: 10mm x 1m x 1m
Impa Code: 813120
For Technical/Material Safety Data Sheets or order inquiries, please contact us.