Aerosols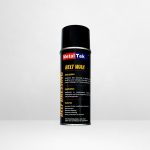 Metal-Tek® Belt Dressing Spray
Metal-Tek® Belt Dressing Spray is specially formulated to condition and lubricate drive belts. It can be used to prevent slippage of V-belts and Flat belts.

Features: Increase friction coefficient of the belt by removing dust and reduces slipping. Prevents cracking and noise from the belt.

Applications: Applicable to compressors, pumps, conveyors, automotive and farm equipment, bushings, bearings and polishing belts.
Technical Specifications
Physical State: Liquid
Odour: Petroleum
Flash Point: 80°C
Solubility: Solvent: Water
Color: Light Brown
Content: 400ml
Impa Code: 814682