Ceramic Fiber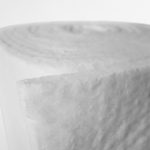 CVS® Ceramic Fiber Blanket
CERAMIC FIBER SHEET
Description
Ceramic fiber blanket is a new kind fire-resistant heat insulation material with white color, standard dimension and the function of fire-resistance, heat insulation and heat preservation. Without any bonding agent, good tensile strength, tenacity and fiber structure can be kept while using under the normal and oxidation condition
Offering a broad range of thermal capabilities and physical characteristics, this product family provides proven effective solution to a variety of heat processing applications.
Specification
•Needled blanket.
•Non-combustible.
•Low density and low thermal conductivity.
•Shorter heat up and cool down time.
•Resilience and resistance to thermal shock.
•Flexible and easy to cut or install.
•Consist of acoustic properties.
•Contain no organic binder.
•Asbestos free.
•Blanket density: 64kg/m³, 96kg/m³, 128kg/m³, 160kg/m³.
•Available size: 7, 200 x 600 x 6 / 13 / 20 / 25 / 50.
Applications
•Refractory back-up installation.
•Direct exposure to heat as furnace hot face lining.
•Expansion joint seal.
•Fire protection.
•General high temperature insulation.