Aerosols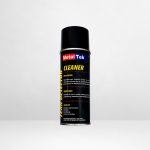 Metal-Tek® Color Check Cleaner Spray
Metal-Tek® Color Check Cleaner Spray is a fast drying, colorless solvent that is specially developed as a pre or post cleaner for Penetrant & Developer.

Features: Fast drying, leaves no residue. Portable and has excellent performance.

Applications: Suitable for use in metal working (welding), fabrication, engineering, inspection and testing, pipes and castings.
Technical Specifications
Physical State: Liquid
Odour: Petroleum
Flash Point: 80°C
Solubility: Solvent: Water, practically insoluble
Color: Light Brown
Content: 400ml
Impa Code: 450931