Aerosols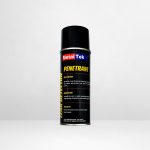 Metal-Tek® Color Check Penetrant Spray
Metal-Tek® Color Check Penetrant Spray is a highly visible red dye which penetrates into even the tiniest defect or crack.

Features: Fast drying, leaves no residue. Portable and has excellent performance.

Applications: Applicable for bolts, nuts, cranes and derricks or any other rigging equipment that is exposed to sea water. It can be applied also to manifolds, flanges, boilers, valves, cylinder head gaskets, oil burner nozzles, etc.
Technical Specifications
Physical State: Liquid
Odour: Petroleum
Flash Point: 80°C
Solubility: Solvent: Water, practically insoluble
Color: Light Brown
Content: 400ml
Impa Code: 450932