Aerosols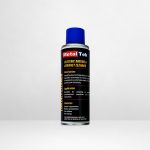 Metal-Tek® Electric Motor & Contact Cleaner Spray
Metal-Tek® Electric Motor & Contact Cleaner Spray is a fast acting and non-corrosive solvent for cleaning and degreasing of oil, dirt, grease and grime on electrical parts and equipment. It dissolves and removes film and dirt to ensure reliable contact. It does not affect metals or resin.

Features: Improves the conductivity of contacts, commutators, etc. Fast drying and harmless to insulation. Restores and maintain the resistivity of insulating materials. Reduce maintenance and ensure reliable contact.

Applications: Cleaning electrical motors, electric and mechanical equipment (e.g., switches, contact point, coils). Degreasing air conditioning motors, generators, radar equipment. Cleaning aviation and motor engines. General degreasing of equipment in which the use of other flammable solvents and water are not desirable.
Technical Specifications
Viscosity: Free Flowing
Odour: Petroleum
Flash Point: 80°C
Specific Gravity: 1.25
Solubility: Solvent: Water, practically insoluble
Color: Light Brown
Content: 250ml
Impa Code: 450591, 450592, 795511