Aerosols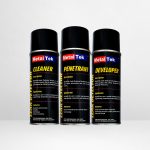 Metal-Tek® Super Color Check Set
Complete set containing one 400ml canister each of Metal-Tek® Color Check Cleaner, Penetrant & Developer. It provides a fast and reliable method for visual detection of cracks or flaws which are usually not visible to the naked eyes.

Metal-Tek® Color Check Cleaner is a fast drying, colorless solvent that is specially developed as a pre or post cleaner for Penetrant & Developer. Penetrant is a highly visible red dye which penetrates into even the tiniest defect or crack. Developer contains fast drying white coating that offers maximum visibility against Penetrant.

Features: Fast drying, leaves no residue. Portable and has excellent performance.

Applications: Suitable for use in metal working (welding), fabrication, engineering, inspection and testing, pipes and castings.
Technical Specifications
Physical State: Liquid
Odour: Petroleum
Flash Point: 80°C
Specific Gravity: 1.25
Solubility: Solvent: Water, practically insoluble
Color: Light Brown
Content: 400ml
Impa Code:  617026