Other Cleaning Supplies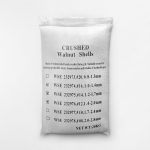 WALNUT SHELL
Made from crushed walnut shells in accordance with industrial standards soft enough not to damage and oxidizer the turbocharger material. Several types of grain size available.
Applications:
Efficiently removes carbon scale. Suitable for use in cleaning up dirt sticks from nozzles and blades of turbocharger.
Product Features:
•  Clean surfaces without damaging underlying materials
•  Can be used to absorb contaminants
•  Renewable and environmental friendly
•  Re-usable
•  Economical
Technical Specifications:
Material: Walnut shell
Color: Brown
Weight Per Bag: 20kg
Nominal Grain:
•  #8 – Main Diameter: 2000-2830μm
•  #12-16 – Main Diameter: 1000-2000μm
•  #20 – Main Diameter: 840-1190μm
Availability:
•  Walnut shell #8 (Impa Code: 232978)
•  Walnut shell #12-16 (Impa Code: 232976, 232975, 232974)
•  Walnut shell #20 (Impa Code: 232973)
For Technical/Material Safety Data Sheets or order inquiries, please contact us.