Resin Based Maintenance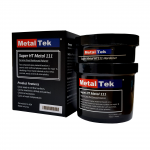 Metal-Tek® Super HT Metal 111
Metal-Tek® Super HT Metal 111 consists of two component systems that harden by the addition of a curing agent to the resin. It is a ceramic Steel Reinforced Polymer suitable for high temperature environment (280°C).
Features:
Ideal for high temperature applications.
Corrosion Resistance.
Multipurpose.
Can be machined, drilled, tapped or sanded.
Fast repairs to pipes, tanks and other essential equipment.
Impa Code: 812351, 812242, 812945