Gland Packings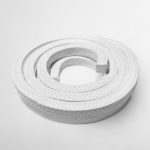 Pure PTFE Packing (CVS® 4505)
CVS® 4505 is a square braided packing manufactured from pure PTFE filaments that have been impregnated with PTFE dispersion and lubricated with special heat-resisting agents.
Applications:
An exceptional packing for use in centrifugal pumps, reciprocating type pumps, turbines, agitators, mixers, and low pressure valves.
Product Features:
•  High structural strength, good solvent and chemical resistance
•  Ideal for use in extensive applications, especially when clean and non-contaminating packaging is needed
•  Resistant to all media (pH 0-14) with the exception of molten or dissolved alkali metals and flourine at particularly high temperatures and pressures
•  Suitable for use with solvents, strong acids and alkalis
Technical Specifications:
•  Temperature: -100°C to 80°C
•  Pressure: 50 Bar
•  pH: 0 to 14
•  Velocity: 10m/s
Size Availability:
For Technical/Material Safety Data Sheets or order inquiries, please contact us.