Gland Packings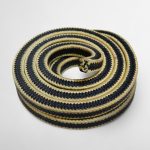 Graphite Filled PTFE Packing with Kevlar Corner (CVS® 4529)
CVS® 4529 is a square braided hybrid packing manufactured from a combination of graphite filled PTFE and aramid yarns reinforcing the edges to prevent gap extrusion during high pressure and temperature conditions.
Applications:
For use in reciprocating pumps, mixers and high viscosity pumps.
Product Features:
•  Good sliding properties and thermal conductibility
•  Suitable for use with oil, water, alkali, solvent and acid
Technical Specifications:
•  Temperature: -200°C to 260°C
•  Pressure: 100 Bar
•  pH: 2 to 14
•  Velocity: 16m/s
Size Availability:
For Technical/Material Safety Data Sheets or order inquiries, please contact us.